Rectum judicium [4]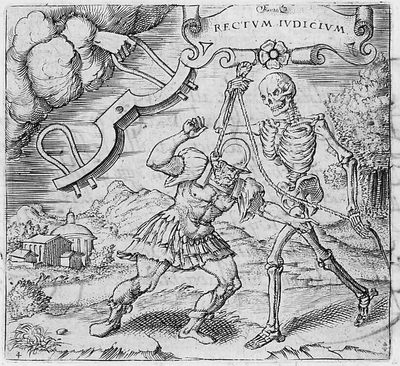 Cristus die voor ons heeft soo veele wtgericht
biedt ons sijn juck aen, dat soet, lieflijck is en licht
Maer veel ondanckbaere door hovaert stout ghedreven
Willen tot hun behout, haer daer niet onder gheven.
Bij Godt ist altemael. om niet ghij t' al verliest.
Nu ghij O Willens-quaet! Het slimst voort beste kiest.
Die dan hertneckich van het quaet niet sijn te wicken
Vallen Rechtvaerdich in des Doots en duijvels stricken.

Le Fils de Dieu seul iuste & tout parfait,
Nous a son ioug doucement presenté:
Mais cest ingrat, qui conte n'en a fait,
S'est d'vn tel bien par orgueil absenté.
Puis donc qu'ailleurs n'est vie, ne santé,
Qui monstrera que Dieu luy ait fait tort,
Si le rebelle en sa temerité
S'est trouué pris du licol de la mort?


Translations
| | |
| --- | --- |
| | |
| | |
| --- | --- |
| | |
| | |
| --- | --- |
| | |
It was a mild yoke that Christ brought
To the world after defeating the enemies,
And mild shackles to an accommodating back.
But you, who with raging mind refuses to submit,
Why do you complain, if you fall into the snares of death?.

Literature
Mentioned in: Henkel and Schöne, Emblemata, col. 1438f
References, across this site, to this page:
Iconclass
A soldier rejects the yoke that is offered by the hand of God; Death holds a noose around his neck
Comments
commentary
Notes