Sed futuram inquirimus [12]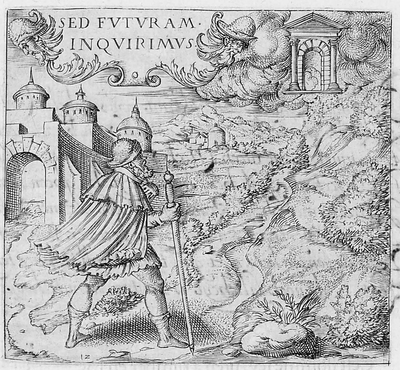 Dees Pelgherim (met staech te gaen) benaersticht hem,
Om haest te comen in het nieuw Jerusalem.
Geen schat, noch heerschappij en mach te Rugh hem houwen
(Daer meest de weerelt sich verdoolt op gaet betrouwen.)
Ontslaet hem van die moeit want hy weet voor ghewis
Dat hier beneden gheen blijvende plaets en is.
Jammerdal, vol eelendt, vol leet, vol druck, vol Clagen
Seijt hij, en sucht! wanneer werd' ick van u ontslagen?

Ce pelerin peu à peu s'achemine
Pour arriuer à la cité celeste,
Et n'a regret qu'autre que luy domine
Ses champs, chasteaux, & que rien ne luy reste.
Voicy, qui fait, que rien ne le moleste,
Considerant que maison permanente
N'auons ça bas, mais bien mortelle peste,
A tous qui n'ont plus haut mis leur attente.


SED FVTVRAM INQVIRIMVS1

Translations
| | |
| --- | --- |
| | |
| | |
| --- | --- |
| | |
| | |
| --- | --- |
| | |
Already yearning for a long time for the Kingdom of Heaven
The traveller decided himself to leave his riches to others.
Let them keep it, interest and all, he is not jealous, for
He knows that the houses of this world do not last.

Literature
Mentioned in: Henkel and Schöne, Emblemata, col. 983f
References, across this site, to this page:
Iconclass
A man dressed as a pilgrim is looking up at the gate at the end of the narrow way
Comments
commentary