A malo castigaberis [26]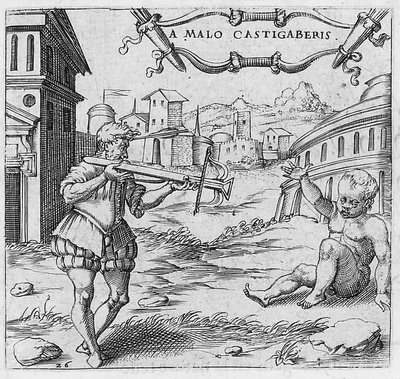 Onmachtich is de macht des werelts t'saem vergaert,
Om quetsen dat de goe en stercke Godt bewaert.
De gifte pijl die ghij gaet op d'onnosel micken
keert Godt tot v: en breeckt v quaet voornemen sticken
Hier van een spiegel is t'vereende neederlant
Bestormt met groot ghewelt: door Goodts vermogen hant
bleef staende tegens hoop. O Godt v is de Eer
Ghy hoedt d'ootmoedighe. de stoute smyt ghij neer.

Ce Philisthin s'est par orgueil armé,
Et veut tirer contre simple Innocence:
Mais Dieu a fait son traict enuenimé
Tourner sur luy, brisant son arrogance.
O beau miroir aux yeux de nostre France!
Pour contempler du grand Dieu des hauts cieux
Le prompt secours, la iustice & puissance,
Qui garde l'humble, & abat l'orgueilleux.


Translations
| | |
| --- | --- |
| | |
| | |
| --- | --- |
| | |
| | |
| --- | --- |
| | You will be held back from evil. |
You were hoping to brings down the innocent by nasty death.
But due punishment lies in store for you, by your own doing.
For as its course turns back on you, it pierces you and strikes you down,
The drawn arrow, while it misses the undeserving head.

Literature
Mentioned in: Henkel and Schöne, Emblemata, col. 1509f
References, across this site, to this page:
No references to this emblem or page found.
Iconclass
An archer shoots at a naked toddler who raises his hand; the arrow pierces the archer's own forehead
Comments
commentary
Notes