Invia virtuti nulla est via [60]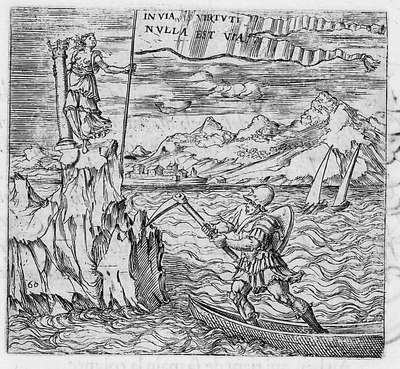 De ijverighe Lust ontsiet geen dinck (hoe swaer)
Om comen bij het geen daer bij men garen waer.
Dees Man doet alle vlijt om by de Deucht te Raken
De herde Rots hij Slecht om effen wech te maken.
De Deucht, wijst hem nae Godt: en maeckt sijn lust soo groot
Dat hij om daer te sijn, en vreest haet, smaet, noch doot.
T'Geloof dat maeckt hem sterck, om welgemoet te varen
De sorchelijcke zee van werelts woeste baren.

Cest homme icy, selon qu'il s'achemine,
Monstre qu'il veut à vertu paruenir,
Marchant en mer, la roche brise & mine
Pour son chemin applanir & vnir.
Celuy qui veut iusques à Christ venir,
Doit tout ainsi par actes vertueux
S'acheminer, & de foy se munir,
Pour rendre aisé ce roc tant perilleux.


Translations
| | |
| --- | --- |
| | |
| | |
| --- | --- |
| | |
| | |
| --- | --- |
| | No way is closed to virtue. |
Although virtue stood high up on a steep pinnacle,
To where the sea rolled in its foaming swell on all sides,
Still my power that deep love of virtue dispenses
Forces rocks and waves to make way for me.

Literature
Mentioned in: Henkel and Schöne, Emblemata, col. 1550f
References, across this site, to this page:
Iconclass
A man, dressed like a Roman soldier, demolishes a rock upon which a personification of Virtue is standing, holding a column and a banner
Comments
commentary
Notes