De plenitudine eius [3]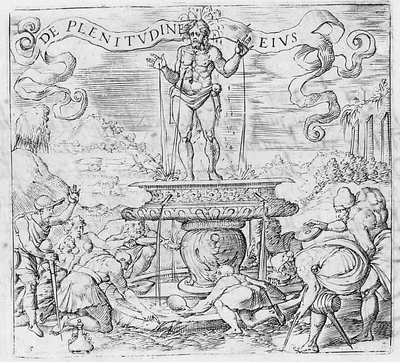 Om dat wij jammerlijck van Godt waeren verdwaelt
Soo sandt hy ons sijn Soon, die heeft ons weerghehaelt.
Syn Soon! die hy uijt Lieft, niet wt verdienst ons jonde
In alles ons gelijck: behalven inde sonde;
Wie keeren wil, en die sijn dwaelen quaet beschreijt,
Wie vlieden wil de slaefsche duijvels dienstbaerheijt
Die coom tot Crist, die vrijdt en laeft v met sijn bloet
Dat hij v schenckt om niet. jn volle Overvloet.

Pource que tant eslongnés de Dieu sommes,
Qu'impossible est à nous de l'aprocher,
Naistre il a fait son fils semblable aux hommes,
Fors qu'il est net, & exempt de pecher.
Qui se veut donc de peché depescher,
Et de Satan fuir la seruitude,
S'en vienne à Christ pour sa soif estancher:
Car nous puisons tous de sa plenitude.


Translations
| | |
| --- | --- |
| | |
| | |
| --- | --- |
| | |
| | |
| --- | --- |
| | |
To where are you fleeing, changing track with uncertain step?
Are you in search of the waters of justice from their living source?
Come hither, drink here by the cupful of the liquid
You have longed for, where the live well of justifying water is.

Literature
Mentioned in: Henkel and Schöne, Emblemata, col. 1245f
Motto by John 1:16: Uit zijn volheid (hebben wij allen ontvangen), in English: From his fullness (we all received grace upon grace). Christ as a fountain of life, founded on John 1:16, Revelation 21:5 and Isaiah 55:1, dates back to the Middle Ages. Knipping en Meertens, Van De Dene tot Luiken, pp. 29-30
Minear gives detailed analyses of the images used in the New Testament, amond which the image of Jezus as the (bleeding) tree of life. Minear, Images of the church
References, across this site, to this page:
Iconclass
Sick and crippled people drink from a fountain on top of which Christ is standing, shedding his blood
Comments
commentary
Notes