Per multas afflictiones [67]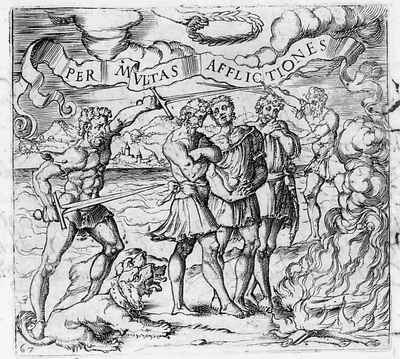 Vier, Water, strop, en Swaert, oock menich boose hont
Die sijn veeltijt ontrent, en schicken haer jnt Ront
Om de Rechtvaerdigen. haet, Nijt, verdriet en quellen,
Benautheyt, suchten, Pyn, sijn hun staghe ghesellen.
Maer siende door t'geloof de heerelijcke kroon
Die nae veel lijdens hun belooft is tot een loon
Verdragent met ghedult. Vinden (met Paulus) goet
T'geleij t'geen Dat hun brengt bij Cristum die t' versoet.

Feu, glaiue, mer, maint chien malicieux,
De tous costés les iustes environne.
Rien il n'y a en ce monde enuieux
Qui auec dueil ce torment ne leur donne:
Mais de la foy l'œil voyant la couronne
A eux promise après l'affliction,
Avec sainct Paul trouuent la guide bonne,
Qui meine à Christ, nostre saluation


PER MVLTAS AFFLICTIONES.1

Translations
| | |
| --- | --- |
| | |
| | |
| --- | --- |
| | |
| | |
| --- | --- |
| | Through many afflictions. |
On one side the fires and the rabid dogs; on the other also the
Fierce menace of the sea, and of the wild mob with drawn swords.
For the followers of Christ the mind remains without terror,
Since they see wreaths prepared because of their defence of their faith.

References, across this site, to this page:
No references to this emblem or page found.
Iconclass
Three men are threatened by two men with swords, by fire and by growling dogs
Comments
commentary
Notes
Maybe alluding to Judith 8:23, "per multas tribulationes transierunt fideles"