Resistite fortes [83]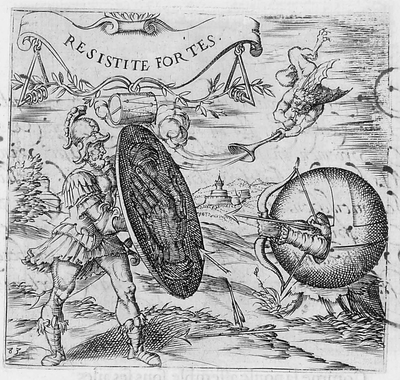 Op op! ghij Cristenen ter wapen. met ghewelt
Coomt v de Duijvel, en de werelt, nu te velt,
En levert storm op storm. maer wederstaetse Crachtich
Door vast gheloof dat hun maeckt weerloos en onmachtich.
Soo sult ghij raeken strack de sotte dronckerts quijt
Van t'bloed der heijligen, dat aen Godt wraeke krijt.
U Hooft en Cappiteijn wilt mannelijck na treden,
Hebt moet, verwacht, hij koomt die voor v heeft geleden.

On voit assez combien grandes alarmes
Satan, le monde, ont iusqu'ici liurez
A tous Chrestiens: mais comme bons gendarmes
Resistez forts par foy: car deliurez
Serez bien tost de ces fols enyurez
Du sang des saincts, qui crie à Dieu vengeance:
Ainsi par foy Christ, vostre chef, suyurez.
Voyci, il vient: courage en patience.


Translations
| | |
| --- | --- |
| | |
| | |
| --- | --- |
| | |
| | |
| --- | --- |
| | |
The deceits of the world set bitter wars in motion for man,
As do the weakness of the flesh and the Devil's envy.
But may true faith be your shield: protected by this armour
You will despise your enemy's weapons, as they accomplish nothing.

Literature
Mentioned in: Henkel and Schöne, Emblemata, col. 1015f
References, across this site, to this page:
No references to this emblem or page found.
Iconclass
A soldier protects himself with a shield against the arrows fired at him from a hole in a globe
Comments
commentary
Notes