Sic fiet filiis iniquitatis [16]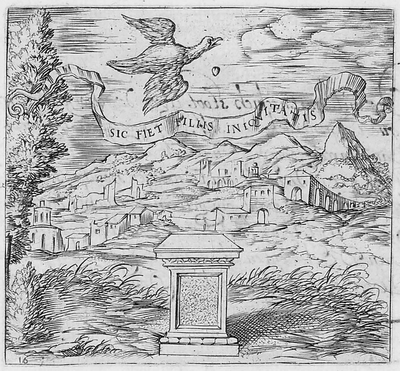 Souw oock de Noot hem wel gheluckich achten mogen,
Om Dat een kreij met hem was Hemel-hooch ghevlogen?
Neen! als hij meent te sijn van laecheijt alderverst
Soo laet de kreij hem los dan valt hij dat hij berst.
Alsoo laet Godt wel toe Der godtloosen verheffen,
Op dat Haer hooghe val met meerder slach souw treffen.
Hij plet haer Hoovaert trots vermorselt haer tot stof,
Verweckt sijn volck hier Door om hem te singen Lof.

La Corneille a en soy ceste finesse,
De monter haut pour sa noix mieux casser
Dessus la pierre en plus grande rudesse.
Ainsi Dieu laisse aucuns peruers hausser,
Pour tout à coup les desrompre & froisser
Plus grieuement, à fin qu'il soit notoire
Que tout orgueil luy seul fait abaisser,
Et ce voyant qu'on luy en donne gloire.


SIC FIET FILIIS INIQVITATIS1

Translations
| | |
| --- | --- |
| | |
| | |
| --- | --- |
| | |
| | |
| --- | --- |
| | So will befall the sons of iniquity. |
See how the crow seeks high places in lofty flight,
To cast down the nut she carries in her beak.
Often also the wicked rises to the highest honours,
Only to be quite miserably broken by his own fall.2
Literature
Mentioned in: Henkel and Schöne, Emblemata, col. 229
References, across this site, to this page:
No references to this emblem or page found.
Iconclass
A flying crow drops a nut on a pedestal
Comments
commentary
Notes
'sicut solent cadere coram filiis iniquitatis', source: Latin Vulgate Bible, 2 Kings 3, 34.
It is possible that the crow is symbolic for fate, because crows were ominous birds in Roman religion. Then, the nut is the wicked man. Alternatively, the crow herself is the man and is destined to lose what he has gained with his ambition. It is difficult to bring out the ambiguity in translation. The Dutch and French parallels differ in highlighting either of these aspects.