In lubrico. [20]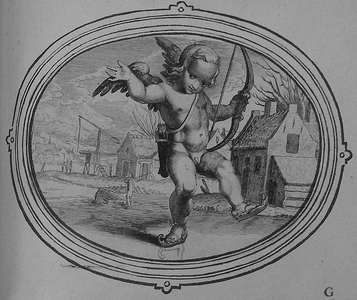 Lubrica res amor est. stat mox ruiturus Amator,
Ac si concretis frigore staret aquis.
Cupido leert het spel dat Hollandt heeft gevonden1,
Hy proeft2 te gaen opt ys, hy heeft tvvee schaetsen aen.
Hy heeft tvvee ysers scherp aen zijne voet ghebonden,
Daer mede3 dat hy meynt opt vvater vast te staen.
Het ys van selfs is glat, de ysers glat daer tegen,
Men valt seer lichtelick daer op, of oock daer in.
Het vryen gaet alsoo. die niet en is te degen4
Geslepen5 op het vverck, die duysselt in de min.

Garde toy Cupidon sur ce glacé passage
Il ne fault qu'vn festu pour te faire tomber.
Et toy qui en Amour fais ton apprentissage,
Le passage est glissant, garde toy de chopper.

Translations
| | |
| --- | --- |
| | |
On slippery ice.
Cupid learns the game invented here in Holland,
He tries to walk on ice, he wears a pair of skates.
He's tied onto his feet the two sharp iron blades -
They'll keep him firm, he thinks, and steady on the water.
The ice is slippery, the blade against it, too,
It's easy to fall down, or even right straight through.
With wooing it's the same: those lacking well-honed skill
Will lose their footing fast, their love will come to nil.
[translation by M. Scholz]

Literature
On the use of typical Dutch elements in the picturae in Cats's

Sinne- en minnebeelden

: Luijten, Gezien of gelezen?
References, across this site, to this page:
Comments
De pictura toont Cupido op schaatsen. Hij lijkt de kunst al enigzins meester, maakt maakt toch ook nog geen volledig stabiele indruk. Achter hem een Nederlands lanschap met een kanaaltje, ophaalbrug en enkele huizen.
De Nederlandse subscriptio verhaalt hoe Cupido de kunst van het schaatsen te leren, op de plaats waar het schaatsen is uitgevonden, in Holland (Noord-Nederland, of nog specifieker het gewest Holland?). Hij heeft het al wel een beetje onder de knie, maar het blijft moeilijk omdat bij het schaatsen de gladde schaatsen tegen het gladde ijs worden geplaatst. Zo is het ook in de liefde: zonder oefening is men op het moeilijk begaanbare pad der liefde zeker kansloos. De uitheemse, klassieke liefdesgod krijgt in dit embleem de kneepjes van het vak aangeleerd in een typisch Nederlandse setting.
Notes