Pila mundus Amorum est. [1]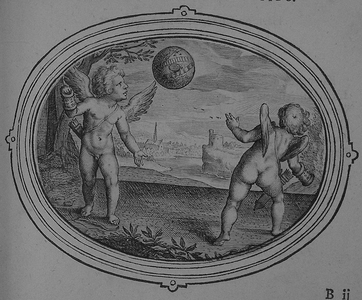 Ecquid, Amans, dubitas? puta, sic jactaris amore
Vt levis excußâ follis in astra manu.
De wonderbaere cloot1 daer in de menschen swermen,
Daer alle dinck in is besloten, een groot al,
Gelegen inde Zee, en in des Hemels ermen,
Woest2, ront3, aen alle kant gelijck, is onse bal.
De weerelt is den bal, vvaermede dat vvy spelen,
Het caertspel4 is de locht. de mensch en siet ghy niet,
Hy is nochtans hier in, en draeyt naer ons bevelen5,
Gesloten in den bal, die ghy hier vliegen siet.
O combien sont legers, l'air & la Terre & l'onde:
Que de force a ce Dieu qui nous brusle tousiours,
Puis qu'on voit en ce jeu pour balon tout le monde
Bondir entre les mains de deux petits amours.

References, across this site, to this page:
No references to this emblem or page found.
Comments
De pictura toont twee Cupido's, bezig met een kaatsspel. De bal waarmee ze kaatsen is de wereldbol. Ze dragen handschoenen, zoals gebruikelijk tijdens het kaatsspelen. De achtergrond is vaag zichtbaar en stelt een dorp aan een rivier voor, met aan de linkeroever huizen en in het midden een kerk. Aan de rechteroever is een fort of kasteel zichtbaar. De Cupido's kaatsen de wereldbol naar elkaar. Ze dragen hun koker met pijlen op de rug, de bogen liggen aan hun voeten. Hun pijlen zijn nergens specifiek op gericht.
In de Nederlandse subscriptio komen de beide Cupido's aan het woord. De wereld is hun speelbal, 'Woest, ront, aan alle kant gelijck, is onse bal'. Hoewel de mensen in de pictura niet zichbaar zijn op de wereldbol in de pictura, kunnen zij toch stellen dat niemand ter wereld ontkomt aan de macht van de liefde.
Notes