Noctua ut in tumulis, super utque cadavera bubo. [48]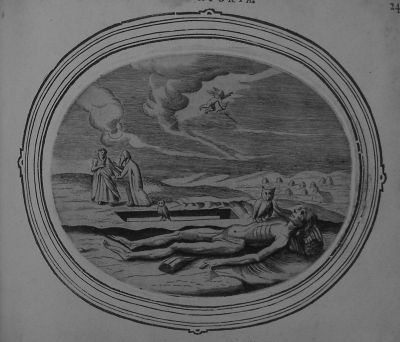 Noctua ut in tumilis, super utque cadevera bubo
Talis erit: Virgo nubere parce, seni.
Ick ben een levend'lijck: nu dinck ick eerst om minnen1.
Als ander houden op, dan gae ick eerst beginnen.
De doot klopt voor de poort, Cupido vvoont int hert.
Ick smaecke voor mijn doot die liefelicke smert.
Ick ben mijn leven quijt2, nu dinck ick om te leven:
Mijn leven dat begint alst my wilt gaen begheven.
Het comt of vroech oft laet: ick vreesde voor de doot,
En crijge voor mijn graff mijns alderliefsten schoot3.
Telle que le hibou, sur une orde carcasse
Tu seras, si tu prends un vicillard a mari.
Tu veux auant la mort, t'enfermer en la chasse,
Et vine t'attacher a un corps mi-pourri.

References, across this site, to this page:
No references to this emblem or page found.
Comments
De pictura toont een sterk vermagerde man, liggend op zijn rug met een uil op zijn borst. Zijn hoofd wordt ondersteunt door een bos takken, en hij is vrijwel ongekleed. Ook onder zijn benen ligt een stuk hout. Naast hem is een graf afgebeeld, waarop zich ook een uil bevindt. Naast het graf staan een man en vrouw. De man trekt de vrouw in de richting van het graf, naar het schijnt. De lucht is gevuld met twee grote, donkere wolken. Cupido vliegt boven dit alles uit, in een stukje opgeklaarde stukje lucht. Hij schiet een pijl af in de richting van liggende man.
De Nederlandse subscriptio laat een stervende minnaar aan het woord, die zich nu pas realiseert dat hij te laat is begonnen met leven. Nu de dood op hem wacht, denkt hij pas aan de liefde. Zijn graf staat daardoor gelijk aan de schoot van zijn geliefde. Een boodschap krijgt dit geheel door de Latijnse en Franse subscriptio: 'Zo zou zij zijn als een nachtuil in de graven, en een oehoe boven de kadavers. Meisje, trouw nooit met een oude man.' Dat lijkt te corresponderen met de sleurende beweging in het richting van het graf die in de pictura te zien is.