Il mal mi preme, & mi spaventa il peggio. [44]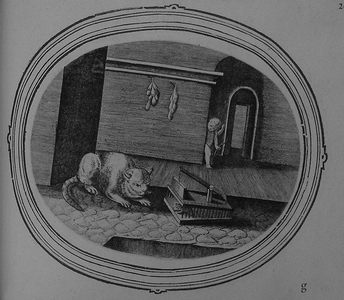 Expectat felles, laxat captentula murem:
Nos mala vitantes deteriora manent.
Als ick in liefde ben1, dan ben ick als ghebonden,
Als ick daer buyten ben, dan ben ick gans gheschonden.
VVat doe ick doch aldus? ontbonden vvil ick sijn,
Soo ick ontbonden ben, soo meerdert doch mijn pijn:
Soo ick dus lange blijf, ick moet mijn vreuchden derven2,
Soo ick dus niet en blijf, soo moet ick doch vvel sterven.
Soo ick ghesloten blijf, soo blijfick inden noot,
Soo ick ontsloten vvord', soo gae ick inde doot.
Que feraye pauuret! se ce piege me lache,
Me voila soubs la dent de ce chat affamé.
Si ie demeure icy, ceste trappe m'scache,
Celuy qui fuit vn mal, est d'un pis entamé.

Literature
Motto originally by Petrarca, sonnet 186. Knipping en Meertens, Van De Dene tot Luiken, p. 26
References, across this site, to this page:
No references to this emblem or page found.
Comments
De pictura toont een kat, die naar een muis zit te kijken die bij de opening van een bijna gesloten muizenval naar buiten gluurt. Om de hoek van de kamer waarin dit gebeurt, gluurt Cupido, met in zijn hand zijn boog.
De Nederlandse subscriptio laat een wanhopige 'ik' horen: zolang men gevangen wordt gehouden door de liefde, is er pijn. Maar zonder liefde wacht de dood. De situatie van deze 'ik' is vergelijkbaar met die van de muis in de pictura. Blijft de muis in de val, of begeeft hij zich naar buiten waar de kat op hem wacht?
Dit embleem staat in de editie 1601 op een andere plaats.