A autruy mort, a moy vie. [30]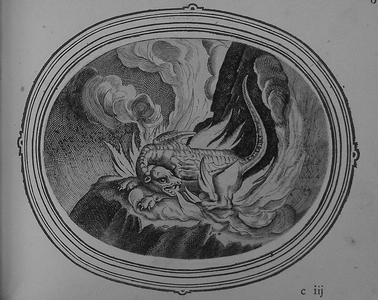 Te nutriunt Salamandra ignes, qui cætera perdunt.
Alterius nobis vivere morte datum est.
In't vier1 leef ick altijdt, tot' tvier2 ben ick gheboren,
Het is mijn lust mijn vreucht, het vier heb ick ghekoren3,
Daer zonder4 can ick niet: soo ick niet hadd' het vier
Dat my het leven geeft, ick vvaer een schamel5 dier.
O vier blijft my maer by6, en vvilt my niet begheven7,
O oorsaeck van mijn vreucht, o vader van mijn leven8,
O rechte medecyn9. het gheen dat ander10 schaedt,
Is oorsaeck dat ick ben bevrijdt van alle quaedt11.
Ce feu, qui me nourrit, met les autres en cendre:
Et le venin d'autruy iemploye a me guerir,
Qui niera desormais doncq, que la Salemandre,
Du feu tout–devorant ne se puisse nourrir.

References, across this site, to this page:
No references to this emblem or page found.
Comments
Cupido lijkt op deze afbeelding te ontbreken, maar bij nadere beschouwing heeft de afgebeelde salamander wel de vleugels en de oren van het cherubijntje? Bovendien rust de achterpoot van de salamander op de restanten van Cupido's boog. Cupido is in de huid gekropen van de salamander. De salamander bevindt zich op een berg, temidden van een behoorlijk vlammend en rokend vuur. Het dier kijkt gekweld opzij, maar maakt geen aanstalten het vuur te verlaten. De achtergrond van de puctura bestaat voornamelijk uit rook en vuur. De salamander werd lange tijd beschouwd als de geest van het vuur. Hij zou uit het vuur geboren zijn en niet door de vlammen gedeerd worden.
In de Nederlandse subscriptio is een minnaar aan het woord, die vergelijkbaar lijkt met een salamander. Op het eerste gezicht lijkt in de subscriptio het perspectief zelfs bij de salamander te liggen ('ik vvaer een schamel dier'), maar het is toch de minnaar die concludeert: In het vuur leef ik altijd, voor het vuur ben ik geboren. Het is mijn lust, mijn vreugd, het vuur heb ik gekozen. De Franse subscriptio heeft als titel die daar deze gedachte ook uitdrukt: ' Voor een ander de dood, voor mij het leven'. In de Latijnse tekst spreekt de minnaar de salamander toe: 'Salamander, het vuur dat andere dieren doodt, voedt jou. Zo kunnen wij door de dood van anderen leven.' Het gebruik van 'wij' impliceert hier overeenkomst tussen salamander en minnaar.
Notes