Censura Amoris [11]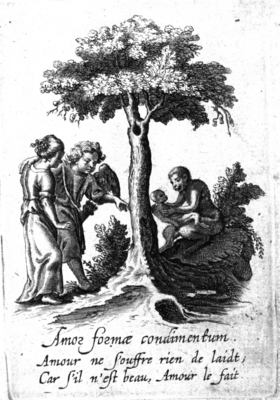 XI.
Aristot.
Cat.
Vnicuique delectabile est quod amat. nam,
Dulcis Amor, furor est. stupet ebria simia prolem,
Nilque suis catulis pulchrius esse putat.
Nescit amans vitium (nimis id licet exstet) amicæ,
Quasque alius dotes non videt, ipse notat.
Fucus Amor vehemens, omnique potentior herba est,
Hoc duce, facundæ garrula nomen habet.
Quisquis amat, mentes agitante Cupidinis æstro,
Omne bono vitium proximiore tegit.

Horat.
Turpia decipiunt cæcum vitia, aut enim ipsa
Delectant, veluti Balbinum Polypus Agnæ1.

Persius.
Asinus asino, & sus sui pulcher est2
.


Censure de l'Amour.
XI.
Amour pipeur, que ne scais tu pas faire?
Amour sorcier, que ne ferois tu plaire?
A l'oeil charmé d'vn esprit amoureux?
L'enfant plus laid semble bel à son pere,
Et le guesnon plaist aux yeux de sa mere.
En fin, Amour, tu fais ce que tu veux.
Translations
| | |
| --- | --- |
| | |
| | |
| --- | --- |
| | To anyone what he loves is delightful. For: |
Love is sweet, it is madness. A drunk ape is stunned about its offspring,
And thinks that nothing is more beautiful than its young.
The lover knows not of what is wrong with his girlfriend (albeit there is a lot of it)
And what she has to offer and no other sees, he takes note of it.
Love is a violent deceit and stronger than any herb.
Under its guidance, a garrulous women is deemed to be an accomplished speaker.
Any lover, his mind driven by the Cupid's goad,
Conceals any vice with a good that is more familiar.

| | |
| --- | --- |
| | The lover names the sons of the gods white, while designating them as black in the case of those of men. For love like a creeper has the power of attaching itself under any pretext whatsoever. |
| | |
| --- | --- |
| | An ass is beautiful to an ass, and a swine to a swine. |
| | |
| --- | --- |
| | Love is the spice of beauty. |
References, across this site, to this page:
Iconclass
Cupid and a girl are looking at a monkey that is admiring her own young
Comments
commentary
Notes
Horat. Serm. I, 1, 3, ll. 39-40.
'Asinus asino, et sus sui pulcher est': very widely known, much quoted, but it is not from Persius: it goes back ultimately to the Greek comic poet Epicharmus, quoted in Diog. Laert. III, 16. A Latin translation of this work may be the source here. The erroneous ascription to Persius may be due to the mention both of a donkey and of Eupolis, another Greek comic poet, in Pers. 1, 120 sqq.