Via Amoris [44]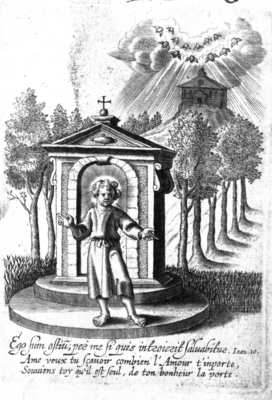 II.
Idiot.
V
Era dilectio est via rectissima eundi ad Chri
-
stum, nec opus est aliqua alia virtute, in cu
-
ius exercitio potest esse via obliqua; sed solum a
-
more & dilectione, quæ ad cœlestem patriam ve
-
rè ducunt, quia alia quæcumque virtus informis
esse potest & cum peccato, & ex eius actu sæpè o
-
ritur vana gloria, quæ, vt ventus, impedit viato
-
rem, imò impellit in chaos inferni. Amor est via
rectissima absque deuio; via breuis absque tædio;
via plana absque tumulo; via clara absque nubi
-
lo; via secura absque periculo; via Iucunda cum
amantissimo duce Domino nostro, Iesu Christo,
via veniendi ad æterna gaudia; quæ non permit
-
tit viatorem ad dexteram, quæ est prosperitas, nec
ad sinistram quæ est aduersitas, declinare. Ista via
Amoris est vera, non ficta, neque palliata; via
cordialis, non verbalis, via fructuosa, non otiosa;
via non solum sermonis, sed etiam operis; via cau
-
ta, non improuida; via prudens, non fatua, ita
quod persona ametur & culpa refutetur, via con
-
stans non momentanea. siquis igitur ad patriam
cœlestem velit celeriter peruenire, per hanc viam
amoris & dilectionis ambulare debet: quia qui a
-
mat ardentiùs, currit velociùs, & peruenit ci
-
tiùs.


Ame, veux tu scauoir combien l'Amour t'inporte,
Souuiens toy qu' il est seul, de ton bonheur la porte.
Chemin de l'Amour.
II.
Si ie suis le chemin, la verité, la vie,
Et qu' il est vray, mortel, que tu as tant d'enuie
D'entrer au vray chemin, pour viure bienheureux;
Dis moy à quoy tient il, que ton ame n'y entre?
Si le Ciel est tafin, si l'Amour est tο centre,
Ie suis la porte, viens, ie t'ouuriray les cieux.
Translations
| | |
| --- | --- |
| | |
| | |
| --- | --- |
| | True love is the most direct way to Christ, and no other virtue is needed in the exercising of which there may be a roundabout way. But [this is attained] only through love and affection, the only virtues that can truly lead us to the fatherland of heaven, because other virtues, no matter which, can be ugly and can be accompanied by sin. The practicing of these often gives rise to vain glory, that just like the wind hinders the traveller, no, even drives him into gaping hell. Love is the most direct way and has no detours. The road is short and produces no tedium. The road is flat, without hills. The road is clear, without clouds. The road is secure, and poses no threats. The road is pleasant and we have the most friendly company of our Lord, Jesus Christ, the way to arrive at eternal joys. It does not allow the traveller to deviate to the right, i.e., prosperity, nor to the left, i.e., adversity. That road of love is true, not a product of fiction, nor is it theatrical; it is a road of the heart, not of words, a fertile road, not one of sloth; a road also not only of discussion, but also of action; a road of caution, not of rashness; a road of prudence, not of silliness, of such a nature that the person is loved, and blame is refuted, a road of stable progress, not of decisions made on the spur of the moment. Therefore if somebody wishes to arrive at his heavenly homeland quickly, he ought to walk along this road of love and affection, because he who loves more ardently runs faster and arrives more quickly. |
| | |
| --- | --- |
| | I am the gate. Whoever passes through me will be saved. |
References, across this site, to this page:
No references to this emblem or page found.
Comments
commentary
Notes