Renovatio Amoris [33]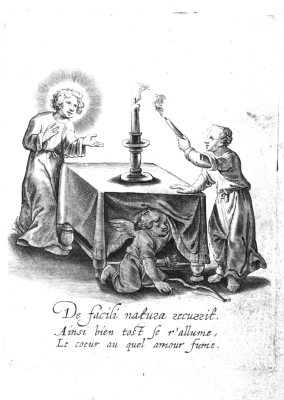 XXXIII.
Ouid.
Quisquis es, antiqui remoue monumenta caloris,
A regno Dominæ qui modo liber abis.
Vera nec ora vide, moueat nec imago saliuam,
Nec digitis gemmas, quas tulit illa, gere.
Fax exstincta recens trahit, ah! trahit eminus ignem,
Et redit in flammam quod vapor antè fuit.
Sic nisi vitaris quidquid reuocabit Amorem,
Flamma recandescit quæ modò nulla fuit.


Renouuellement de l'Amour.
XXXIII.
Si lors que nos Amours esteignent leurs chandelles,
Celle aussy du diuin s'esteignoit auecq elles,
Qui pourroit esperer de r'allumer ces feux?
Mais puis que ce flambeau ne perdi iamais ses flames,
Lors que le nostre meurt, approchons en nos ames,
Nous les veoirons bien tost viure & brusler tous deux.
Translations
| | |
| --- | --- |
| | |
You whoever you are who leaves the mistress's realm, remove what
reminds you of old passion, just so you be free.
Neither regard real faces, nor let an image make your mouth water
And do not wear precious stones on your fingers that she once wore.
A torch, above all one only recently quenched, draws, yes, drags fire towards itself
And what previously was vapour becomes flame again.
Unless you eschew anything that recalls your love,
The flame flares up that a moment ago was nothing at all.

| | |
| --- | --- |
| | Although love goes away, overcome by time and reason, still it does not leave the soul totally, and there remains the trace of as it were a burnt out or smoking forest. |
| | |
| --- | --- |
| | Nature will return to the ways once condemned1. |
| | |
| --- | --- |
| | The matter easily returns to what it really is4. |
References, across this site, to this page:
Iconclass
While a cupid hides under the table, a young woman uses a candle to rekindle another one; a young man watching
Comments
commentary
Notes