Febris Amoris [24]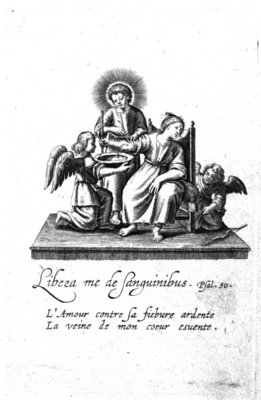 XXIV.
Ambros.
Titel.
O
Domine varijs criminum febribus caro mea
languet, & diuersarum cupiditatum immo
-
dicis æstuat illecebris; nec minorem febrem A
-
moris esse dixerim quam caloris, quia illa ani
-
mum, hæc corpus inflammat: febris enim mea
concupiscentia est; febris mea, auaritia est; febris
mea, libido est; febris mea; luxuria est; febris
mea superbia est, febris mea, ambitio est; febris
mea iracundia est. Heu mi Domine, nonne infir
-
mitas hæc mea ad mortem est? quis est qui me sa
-
nare poterit? non est alius præter te. libera me i
-
gitur Deus omnium, Deus qui solus me saluare
potens es à corruptionibus peccatorum meorum,
quæ in carne & sanguine inhabitant; & seca ve
-
nam affectuum meorum, vt omnes inordinati ap
-
petitus è corde meo efluant, & te solum opti
-
mum, maximum, in omnibus & super omnia di
-
ligam.


Fiebure de l'Amour.
XXIV.
Ce feu est chaud, sa flamme trop cuisante,
Son accéz fort, sa fiebure violante,
Amour, Amour moderez en l'ardeur,
Tirez ce sang, qui boult dedans mes veines,
Car si ie sens continuer ces peines,
Cest faict de moy; Amour adieu, ie meur.
Translations
| | |
| --- | --- |
| | |
O Lord, my flesh is paralysed with manifold sins and burns with boundless enticements to a host of sundry desires. And I would say that the fever coming of love is no less than that of heat, because the former sets my soul aflame, the latter my body. My fever is desire. My fever is greed. My fever is lust. My fever is luxury, My fever is pride. My fever is ambition. My fever is anger. Woe, my Lord, surely this weakness of mine leads to death? Who is there, who can cure me? There is no other except You.
Free me therefore, God of all, God who alone has the power to save me from the corruptions of my sins, that live in my flesh and blood. And cut the vein of my emotions, so that all my chaotic appetites may flow from my heart and I may love You alone, the best, the greatest, in all and above all.

| | |
| --- | --- |
| | Deliver me from bloodshed1. |
References, across this site, to this page:
Iconclass
Sacred love opens the vein of the soul for bloodletting
Comments
commentary
Notes
'Libera me de sanguinibus'. Ps. 51(50):14, but 50:16 in Vg. "Deliver me from bloodshed" (NRSV); "Deliver me from bloodguiltiness" (KJV)