Ovile Amoris [45]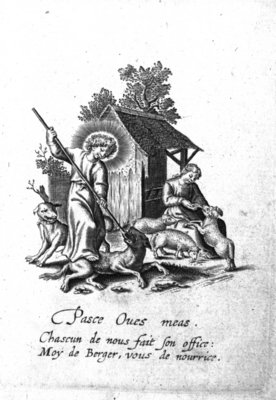 III.
Ioan.
10.
Isa.
40.
Ezech.
34.
Ioan.
10.
August.
E
Go sum Pastor bonus, & cognosco oues
meas, & cognoscunt me meæ; & animā meam
pono pro ouibus meis, & sicut fidelis pastor, gre
-
gem meum pascam, in brachio meo congregabo
agnos & in sinu meo leuabo, fœtas ipse portabo,
& quod perierat, requirā & quod abiectum erat,
inducam, & quod confractum fuerat, alligabo;
& quod infirmum fuerat, consolidabo; & quod
forte & pingue, custodiam, & pascam illas in Iu
-
dicio, & ego vitam æternam do eis, & non peri
-
bunt in æternum, & non rapiet eas quisquam de
manu mea.
Quis similis tibi, o Amor? quis similes tibi
pastor bone? non te quærebam, tu me quæsiuisti,
non te inuocabam, tu me vocasti, vocasti enim
me nomine tuo; Intonasti desuper voce grandi in
interiorē aurem cordis mei: deduxisti me in oui
-
le tuum, & vocem tuam cognoui: sed serò te co
-
gnoui pastor bone, serò te congoui veritas anti
-
qua; tu eras in lumine & ego in tenebris, & non
cognoscebam te, quia illuminari non poteram si
-
ne te, & non est lux extra te.


Pasce Oues meas1.

Bergerie de l'Amour.
III.
Gentils bergers, qu' vne si douce vie
Fait viure heureux dans ceste bergerie,
Sans desplaisir, sans crainte, ny soucis;
I'estime moins les regnes & Prouinces,
L'honneur, les biens, les delices des Princes,
Que ie ne fais celles de vos brebis.
Translations
| | |
| --- | --- |
| | |
I am the good shepherd and I recognise my sheep, my sheep recognise me. I put my life at stake for my sheep, and like a good shepherd I pasture my flock, I ill gather the lambs in my arms and will lift them up in my lap. I will carry the newly born myself and what has gone lost i will look for, and what was driven away I will lead back and what was broken I will splint. An d what was weak I will give solidity. And what is strong and fat, I will guard it and I will herd those sheep on the Day of Judgement and I will give them eternal life. They will not perish forever and nobody shall snatch them from my hand.
Who is like you, o Love? Who like you, Good Shepherd? I did not seek You, You sought me, I did not call You, You called me, You called me in Your own name. You called from above with a magnificent voice into the inner ear of my heart. You have guided me to Your fold and recognised Your voice, but at a late moment I recognised You, Good Shepherd, late I recognised You, Truth of old. You were in the light, I was in darkness. I did not recognise You, because it was not possible for me to be enlightened without You, and there is no light outside of You.

| | |
| --- | --- |
| | |
References, across this site, to this page:
Comments
commentary