L'Amour humain [3]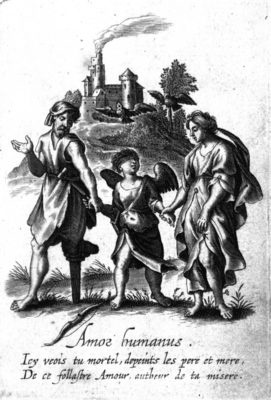 III.
Senec.
Volucrem esse Amorem fingit immitem Deum
Mortalis error, armat & telis manus,
Arcusque sacros instruit sæuâ face,
Genitumque1 credit venere, vulcano satum.

Ioan. Fab.
Idiot.
Senec.
Idiot.
H
Vic Amori pœnitentia & tristitia sunt sem
-
per comites. Anteambulones autem, sunt cu
-
ra, anxietas, sollicitudo, metus, suspicio, ira, odiū,
appetitus impatiens, insomnes noctes, horrenda
somnia, mæror, lachrimæ, subito gestiens lætitia,
subita animi consternatio, omnium extremorum
cogitatio.
Amor hic insatiabilis est, quia extinctus reac
-
cendetur, & post copiam rursus inops fit, animum
virilem effæminat, & præter passionem quam su
-
stinet nihil sinit aliud cogitare. rationis obliuio
est, & insaniæ proximus, foedum minimè conue
-
niens animæ sospiti vitium; turbat consilia, altos
ac generosos spiritus frangit, à magnis cogita
-
tionibus ad humillimas detrahit; laqueus est ani
-
mæ, fœdat pueritiam, perdit iuuentutem, incitat
ac inquietat emortuam carnem & senectutem.
Ineffugabilis est pœna, noxium malum, naturalis
tentatio, desiderabilis calamitas, domesticum,
periculum, natura mali boni colore depicta, in
-
desinens pugna, quotidianum damnum, pondus
grauissimum.


L'Amour humain.
III.
Icy veois tu mondain, cet Amour titulaire,
Qui dementant son nom, at l'effect tout contraire
A ce, que (sans mentir) nous appellōs aimer.
Aimer est animer, Amour est l'ame mesme,
La vie, la douceur, le bonheur de qui l'aime,
La ou ce faux Amour n'at pour aimer qu' Amer.
Translations
| | |
| --- | --- |
| | |
Mortals mistakenly think that winged Love is a
Savage god and arm him by putting weapons in his hands
And place savagely burning arrows on his bow,
And believe that he was born from Venus and sired by Vulcan.
This love always has remorse and sadness as companions. Now their heralds2 are worry, anxiety, distress, fear, suspicion, anger, hate, appetite seeking instant gratification, sleepless nights, horrible dreams, sadness, tears, sudden gestures of joy, a suddenly disturbed mind, thoughts about all sorts of extreme things. This love is unsatiable, because after it has been put out, it will be rekindled, and after a time of plenty becomes destitute again, it makes the manly mind effeminate and it does not allow it to think of anything but the passions it keeps alive. It is the forgetting of reason, and is very near to insanity, vice most unbecoming to the unharmed soul. It makes havoc with sound counsel, it breaks elevated and noble spirits. It drags you down from thinking grand thoughts to thinking the utmost lowly. It is a trap for the soul, it makes boys ugly, youths it leads to perdition, it causes agitation and unrest in flesh that is utterly dead, in old age. A punishment you cannot escape from, a hideous evil, physical temptation, desirable calamity, danger in one's own home, the nature of evil coloured as if it is good, a never ending fight, it does damage day after day, the heaviest load one has to bear.
| | |
| --- | --- |
| | |
References, across this site, to this page:
No references to this emblem or page found.
Iconclass
Vulcan and Venus(?) holding the hands of blindfolded Cupid
Comments
commentary