Præsentia Amoris [76]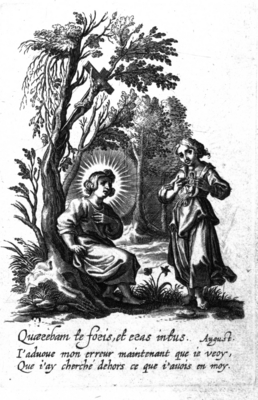 XXXIV.
August.
E
Go erraui sicut ouis quæperierat, quærens te
exterius, qui es interius: & multum laboraui
quærens te extra me, & tu habitas in me, si tamen
ego desiderem te, circuiui vicos & plateas ciui
-
tatis huius mundi quærens te, & non inueni, quia
malè quæ rebam foris, quod erat intus; misi nun
-
cios meos omnes sensus exteriores vt quærerem
te, & non inueni, quia malè quærebam. video
enim lux mea Deus, qui illuminasti me, quia ma
-
lète per illos quærebam, quia tu es intus, & ta
-
men ipsi vbi intraueris nesciuerunt. serò te amaui
pulchritudo tam antiqua vt tam noua. serò te
amaui, & tu intus eras, & ego foris, & ibi te quæ
-
rebam, & in ista formosa quæ fecisti ego deformis
irruebam. mecum eras & tecum non eram. ea me
tenebant longe à te quæ esse non poterant nisi in
te, circuibam enim omnia. quærens te & propter
omnia derelinquens me. at nunc illuminasti me,
& vidi te, & amaui te, & cognoui te, sed qualiter
cognoui te. cognoui te in te. cognoui te, non sicut
tibi es, sed cognoui te sicut mihi es, & non sine te,
sed in te, quia tu es lux quæ illuminasti me.


Presence de l'Amour.
XXXIV.
Si chercher sans trouuer est vne peine grande,
Vous cherchant hors de moy, i'ay bien payé l'amande
Et ressanty le mal de mon aueugle erreur.
Car puis qu' on dit qu' amour n'est qu' es lieux qu' il anime,
I'aduoüe qu' en effect ie ne pouuois sans crime,
Vous chercher Cher amour qu' au milieu de mon cœur.
Translations
| | |
| --- | --- |
| | |
| | |
| --- | --- |
| | I wandered like a sheep that had gone lost, looking outside for You, who are inside; and much effort I spent searching for You outside of me, and You were living in me. Nevertheless, if I was in desire for You, I went round to the villages and squares of the community of this world in search of You; and I did not find You, because I wrongly sought outside what was inside; As messengers I sent forth all my outer senses in order to search for You, and I did not find You, because my thoughts were wrong. For I see, God, my light,1 who have illuminated me, that I wrongly sought after You through them,2 because You are inside, and yet where You entered they themselves did not know. Late I came to love You, beauty3 as old as it is new. Late I came to love You and You were inside and I was outside, and there I sought You and into those beautiful things You had made I in my ugliness rushed. You were with me and I was not with You. Those things held me far away from You, that could not exist unless in You, for I went round to all, searching for You and because of all deserting myself. But now You have illuminated me, and I have seen You, and I have come to love You, and have come to know You. But in what way have I come to know You? I have come to know You in You. I have come to know You not as You are to Yourself, but I have come to know You as You are to me, and not without You, but in You, because You are the light that has illuminated me. |
| | |
| --- | --- |
| | I searched for You outside, and You were inside. |
References, across this site, to this page:
No references to this emblem or page found.
Iconclass
Facing sacred love who is seated beneath a crucifix, the soul opens her shirt and shows an image of Christ that 'lives in her heart'
Comments
commentary