Agitatus fortior [43]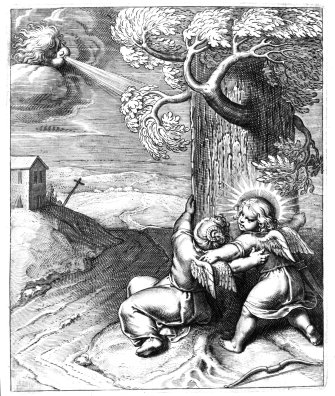 Een boom die dickwils lijt de last
Van winden, storm, en reghen-vlaghen,
Daer teghen sich meer wortelt vast,
Om al onweder te verdraeghen:
Als ziel of lichaem wert ghequelt
Met storm, of teghenspoets onweder,
De liefd' hem stercker teghenstelt,
Verspreyt sijn wortel vast en breder.
l'Arbre soufrant souuent l'orage,
Et la violence des vens,
Se serre & roidit dauantage
Et s'en affermit au dedans.
Tout ainsi nostre ame amoureuse,
Soubz l'effort de l'aduersité,
Embrasse tant plus courageuse
Le tige de sa charité.


Translations
| | |
| --- | --- |
| | |
| | |
| --- | --- |
| | When it has been shaken love is stronger |
| | |
| --- | --- |
| | Ook een boom wordt alleen maar stevig en sterk als daar dikwijls de wind tegenaan beukt. Want juist door die beproeving zet hij zich vast en laat hij zijn wortels verder uitlopen. |
| | |
| --- | --- |
| | Only the tree which a strong wind often assaults is strong. By the very stress it incurs it braces itself and fastens its roots in a more secure way. |
| | |
| --- | --- |
| | De geest van heiligen die de beloning van de eeuwigheid opeist, ontleent kracht aan tegenslagen omdat hij ervan overtuigd is dat bij het heviger worden van de strijd hem een glorieuzere overwinning te wachten staat. |
| | |
| --- | --- |
| | When saints' minds claim rewards of eternity, they acquire strength through adversity, because they are sure that when the fight grows ever larger an even more glorious victory awaits them. |
| | |
| --- | --- |
| | Heeft de liefde wortel geschoten? Wees gerust, er kan niets slechts uit voortspruiten. |
| | |
| --- | --- |
| | Has love grown roots? Then rest assured: nothing bad can come forth. |
| | |
| --- | --- |
| | Gij hadt ons hart met uw liefde doorschoten [...] en het zette ons in lichter laaie, zodat iedere ademtocht van tegenspraak, die van de arglistige tong zou komen, ons feller zou doen vlammen en ons niet uit zou kunnen doven. |
| | |
| --- | --- |
| | Op grond van hun hoop op het eeuwig erfdeel vatten zij die door een storm van tegenslag worden geteisterd vreugde op. |
| | |
| --- | --- |
| | From the hope that they will inherit eternity those who are shaken by the hurricane of adversity derive pleasure. |
| | |
| --- | --- |
| | Hoe meer de plant van de Liefde geteisterd wordt door guur weer, des te meer wortelt en groeit hij. |
Literature
Sebastián, Visión emblemática del amor divino, p. 20
References, across this site, to this page:
Iconclass
In a storm sacred love and the human soul cling to a big tree with wide roots
Comments
Notes