Amor rectus [4]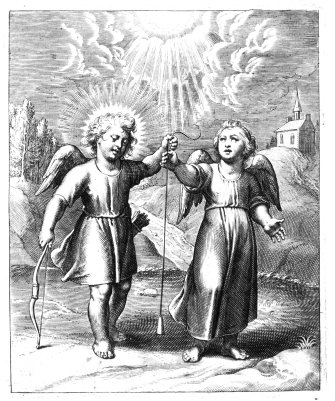 Idem de ciuit.Dei
Quia rectus est amor iustorum, omnes affectiones
rectas habent; metuunt peccare, cupiunt perseuerare;
dolent in peccatis, gaudent in operibus bonis; me
-
tuunt pœnam æternam, cupiunt vitam æternam; do
-
lent in re, gaudent in spe.


[
Augustinus, De civitate Dei

, bk/ch/sect/plv/plp. 14/9/1/41/413]
Altijdt d'oprechte ziele siet,
Omhooch na Godt in al haer wercken;
De cracht der liefden haer ghebiet
Ghestadelijck op hem te mercken.
Sy hout haer recht alsoo 't betaemt.
Betreet altijdt der deuchden paden;
Waerom haer liefde wert ghenaemt
Alleen oprecht in al sijn daden.
Du iuste (dont l'Amour est droicte)
Droictes sont les affections,
Et droict aux cieux ce qu'il souhaitte,
Et droictes sont ses actions.
Tousiours de pecher il a crainte
Et de perseuerer desir:
Seulement la faulte est sa plainte,
Les bonnes œuures son plaisir.


Translations
| | |
| --- | --- |
| | Juist gerichte [rechtvaardige] liefde |
| | |
| --- | --- |
| | |
| | |
| --- | --- |
| | Juist gericht wordt de liefde van hen genoemd, bij wie alle aandoeningen juist gericht zijn; liefde is immers een juist gerichte handeling die altijd het oog op God gevestigd houdt. |
| | |
| --- | --- |
| | The love of those is called right, that contains right actions. For love is an action of rectitude, always directing its eyes towards God. |
| | |
| --- | --- |
| | Omdat de liefde van de rechtvaardigen juist gericht is, zijn bij hen ook al die aandoeningen juist gericht. Zij vrezen ook te zondigen, zij begeren te volharden. Ze zijn bedroefd over hun zonden en verheugd over hun goede werken. Zij vrezen de eeuwige straf, zij begeren het eeuwige leven; zij zijn bedroefd vanwege de huidige werkelijkheid, [...] ze zijn verheugd op grond van hun hoop1 . |
| | |
| --- | --- |
| | Because the love of the just is right, they have all right affections within themselves. They fear sinning, they long to endure. They are in pain when in sin, they are glad when doing good works. They fear eternal punishment, they long for eternal life. Their pain lies in the deed, their joy lies in the creed |
| | |
| --- | --- |
| | De liefde is de magneet van de ziel, waarvan de fijnzinnige werking ons tot de hemel opricht. |
| | |
| --- | --- |
| | De gevoelens van een rechtvaardige (van wie de Liefde juist gericht is) zijn juist, en wat hij wenst, is gericht op de hemel wenst en wat hij doet is juist. Hij is altijd bang te zondigen en verlangt ernaar te volharden, alleen over wat hij fout doet, klaagt hij, over goede werken is hij blij. |
Literature
Buschhoff, Zur gedanklichen Struktur, pp. 41-42
Sebastián, Visión emblemática del amor divino, p. 12
References, across this site, to this page:
Iconclass
Sacred love and the human soul are holding a plumb line
Comments
Notes
Cmp. Augustinus, De stad van God

, p. 637.