Omnia conjungo. [24]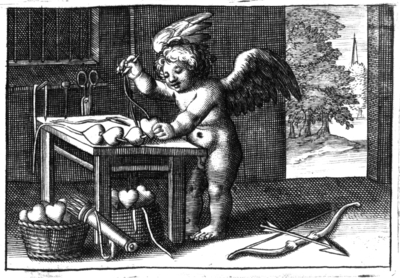 24. Omnia conjungo.
Mijn ambacht dat ghy siet dat is by een te voegen
Den hemel en de aerd, en watter is daer in,
Met een genegentheyt, en liefelick genoegen.
Dat is het eygen werck van een volkomen min.
Ick naeye wat ick mach de herten aen den ander
Die verre van een sijn. ick hechte watter leeft.
Soo datse nimmermeer en komen van den ander,
Met eenen soeten draet, die my mijn moeder geeft.
Facsimile Images
Translations
References, across this site, to this page:
No references to this emblem or page found.
Iconclass
Cupid making a chain of hearts
Comments
commentary
Notes