Sine fine. [12]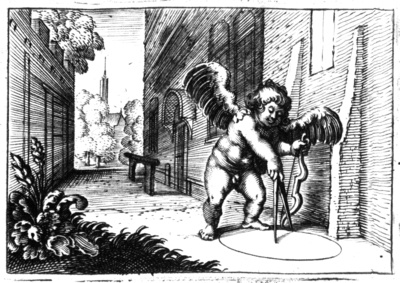 12. Sine fine.
VVat doet den kleynen Godt? wat heeft hy toch te schrijven
Beneden in het sandt? wat maeckt hy voor een werck?
Hy keert den passer om, het een been siet ghy blijven,
Het ander gaen rontom, en trecken een rondt perck.
De circkel die ghy siet, is toe van alle sijden:
Men siet geen endt in hem, oock isser geen begin.
Soo gaet het oock met ons. wy blijven in het lijden.
Die eens quam in ons hert, die woonter altijdt in.
Facsimile Images
Translations
References, across this site, to this page:
No references to this emblem or page found.
Iconclass
Cupid drawing a circle on the ground with compasses
Comments
commentary
Notes