Amor eruditus. [23]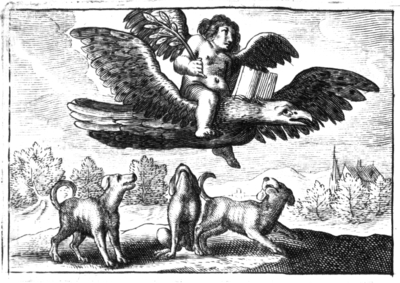 23. Amor eruditus.
Cupido vliecht om hooch vast houdend' in zijn handen
Een ongesloten boeck, dat hy beschreven heeft.
Die wetenschap besit, vliecht over alle landen,
En boven haet en nijt, trotst al wat datter leeft.
De minnaer die dat heeft, en is niet meer gebonden
Aen 't oordeel van het volck, die verre van hem staen
Beneden op der aerdt. dat sijn de keffend' honden,
Die bassen in de locht, daer zy niet konnen gaen.
Facsimile Images
Translations
References, across this site, to this page:
No references to this emblem or page found.
Iconclass
Three dogs barking at Cupid who is seated on a flying eagle, and holds an open book and an olive-branch
Comments
commentary
Notes