Volvitur assidue. [14]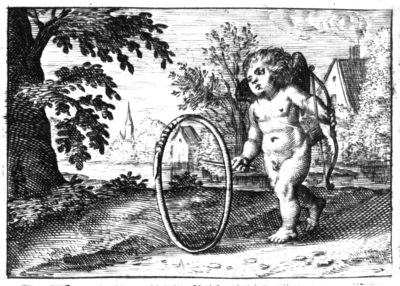 14. Volvitur assidue.
Cupido drijft den hoep: dat is het spel der minnen.
Den hoep en heeft geen end: de min en heeft oock geen.
Den hoep is sonder kant: de minnaer heeft geen sinnen.
Den hoep rolt altijdt voort: dat heeft hy oock gemeen.
Den hoep wort voort gestout: de minnaer wort geschoten.
Den hoep gaet dickwils om: de minnaer is altijdt
Dat hy te vooren was. den hoep is toegesloten:
De minnaer kompt oock vast gebonden in den strijdt.
Facsimile Images
Translations
References, across this site, to this page:
No references to this emblem or page found.
Iconclass
Cupid bowling a hoop
Comments
commentary
Notes