Puer denuo. [18]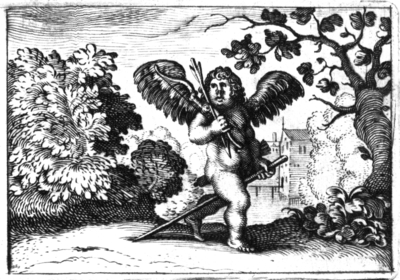 18. Puer denuo.
Het loose Venus kindt, gelijck de kinders plegen
Die noch onnosel sijn en loopen in den rock,
Heeft yewers uyt den hoeck een houten peert gekregen.
Het peert dat hy berijdt is eenen besem stock.
Let hier, ô Minnaer, op, indien ghy wilt beerven
Het gene dat ghy soeckt, eer ghy het spel begint.
VVant sonder sot te sijn en sult ghy niet verwerven.
Die recht getroffen is, wordt wederom een kindt.
Facsimile Images
Translations
References, across this site, to this page:
No references to this emblem or page found.
Iconclass
Cupid riding a broomstick as if it were a hobby-horse
Comments
commentary
Notes