Exitus in dubio est. [4]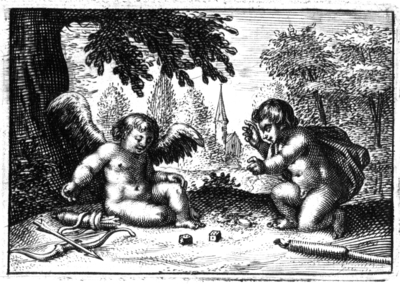 4. Exitus in dubio est.
Siet toch eens Venus kindt, en die sich daer beneven
Gevoecht heeft op der aerdt, een Godt en oock een kindt,
Die Hymen wordt genaemt: wiens ambacht is te geven
De man zijn soete lief, die hy wel heeft gesint.
Het is een wonder werck: zy dobbelen met steenen,
Of zy't oock wesen sal, dat seer onseker is.
VVant als ghy meent te sijn seer vast en op de beenen,
De steen die keert noch om, de saecke gaet noch mis.
Facsimile Images
Translations
References, across this site, to this page:
No references to this emblem or page found.
Iconclass
Cupid and Hymen playing a game of dice
Comments
commentary
Notes