Perfer & obdura. [7]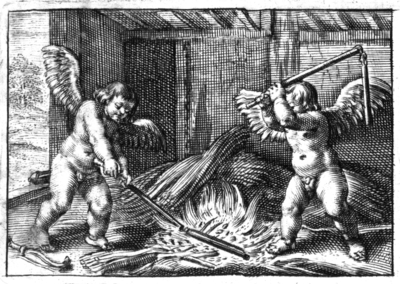 7. Perfer & obdura.
Twee van het loose volck van Venus soete knapen,
Met vleugels toegerust, slaen 'tkooren van het kaf.
Het kooren blijft geheel, dat sy daer naer op rapen,
Het stroo dat blijft alleen, dat scheyden sy daer af.
Soo gaet het in de min. ghy moet geduyrich lijden,
Tot datter wert beproeft, wie rechte liefde draecht.
Dan draecht zy in het graen, en werpt het kaf ter sijden,
Die u heeft lief ghehadt, en die u heeft behaecht.
Facsimile Images
Translations
References, across this site, to this page:
No references to this emblem or page found.
Iconclass
Two cupids threshing
Comments
commentary
Notes