Nil aurei? nil te coronati juuant [41]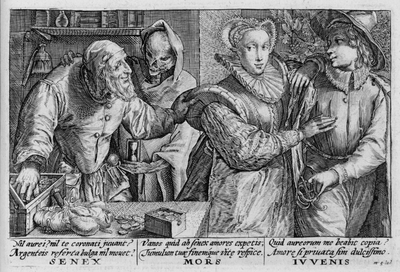 SONNET.
DEn Grijsaert oudt
Soect met vriendelijcke koudt
'tMeysken te bepraten,
Maer't jongh sy bemint
En is ghesint
Die niet te laten.

Nil aurei? nil te coronati juuant?
Argenteis referta bulga nil mouet?
SENEX
Vanos quid ah senex amores expetis;
Tumulum tuæ finemque vitæ respice.
MORS
Quid aureorum me beabit copia?
Amore si priuata sim dulcissimo.
IVVENIS
m.q. lud.
Ionghe Meyskens te beminnen,
Hooghe Berghen op te klimmen,
Herde Noten te kraken,
Syn voor een Oudt Man dry svvare saken.
Op de wijse:

Helaes Amour vvat gaet, & c.
T'Iongh verheucht myn hert en sin
Daer wil ic my mede paren /
Want ick dees veel meer bemin /
Dan u oude grijse haren /
Oft ghy my u schat aenbiet /
Acht u noch u rijckdom niet.
Hout vry af en weest te vreen
Ghy en sult my niet bekomen /
Troud' ic u 'twaer buyten reen
En verliet ic desen vromen /
Neen ick acht alsoo ghy siet
V noch u rijckdom niet.
Soect voor u een ander Vrou /
Want in dees heb ick behaghen /
Die zal ick by blyven trou /
Tot het eynde van myn daghen /
Oft ghy my u schat aenbiet /
Acht u noch u rijckdom niet.
Soud' ick zoo myn jonghe jeucht
Om het goetgien doen bepraten /
Van u oud' Man sonder vreucht /
Neen ten zal u al niet baten /
Oft ghy my u schat aenbiet /
Acht u noch u rijckdom niet.
Princes ziet wel wat ghy doet /
Wilt om 'tghelt gheen out Vel trouwen /
Maer verkiest tot u behoet /
Een daer ghy met syt behouwen /
Of den grijs u schat aenbiet /
Acht hem noch syn rijckdom niet.

Op de selve vvijse.
OVden kouden klapper // tant /
Ghy meucht u versoeck wel staken /
Het moet syn een dapper // quant /
Die my sal konnen vermaken:
Troud' ick u / ick soud' myn Ieucht
Heel verslyten / sonder vreucht.
Seght my doch / wat vreuchdich // min
Dat ick kan van u ghenieten?
Ick / die noch heel Ieuchdich // bin /
V zal't leven haest verdrieten:
Hout vry af / O oude Vaer /
Wy syn t'onghelicken paer.
Al syt ghy seer machtich // rijck /
Ick en zal u doch niet minnen /
'tGoet is maer waerachtich // slijck /
Sy syn wel berooft van sinnen /
Die hier 'toude / koude Bloet
Trouwen gaen alleen om 'tgoet.
Doch ick soud' u laken // niet
Om 'tgoet / waert ghy ionck van Leden /
Maer nu wil ick staken // ziet
'tHouw'lick: dus stelt u te vreden /
Want ick doch met hert en sin
'tIonghe boven 'tOud' bemin.
Licht ick overlegghen // kan /
('tWelck niet al sou syn gheloghen)
Dat elck een sou segghen // dan /
Die Meyt is door't goet bedroghen:
Dus wijckt van my / oude grijs /
Troud' ick u / ick waer niet wijs.
Maeghdelick / Princessen // fier /
Die syt in de fleur van't leven /
Onthout dese lessen // hier /
Wilt voor't Oud' het Iongh aenkleven /
Trout ghy d'Oud' wt giericheyt:
Ghy trout Man / en droefheyt beyt.
Verkiest het beste.
Translations
Literature
The expression on p. 192 can also be found in Den nieuwen Lusthof. Keersmaeckers, Wandelend in Den nieuwen lust-hof, pp. 34-37
References, across this site, to this page:
No references to this emblem or page found.
Iconclass
An old man, with one hand in a money-box, grips the shoulder of a young woman who rests her arm on the shoulder of a young man; Death rests his hand on the shoulder of the old man
Comments
commentary
Notes