Aures demulcet [3]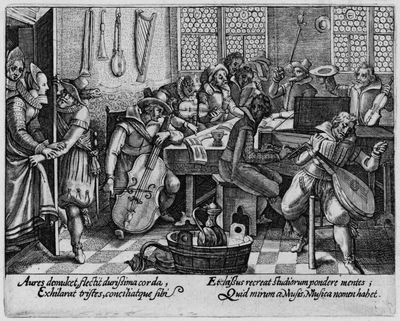 OM 'tverstant te verscherpen, leeren wy neerstelijck Singhen,
Om oock met den tijt, tot 'tMinne-spel te pas te bringhen.
Tot onser Maistres servys, leeren wy soetkens Spelen,
Daer by Lieffelijck met het keetgen quelen.
Wat is doch dese Konst, als daer in dese saken
Ghebreect en Vrijsters stem? alleen kant ons vermaken.
Maer wat voor een Doeck, komt kijcken door der deuren?
Komt Vrijster, komt doch hier, Och trect my niet, mijn Rock zal scheuren.
Aures demulcet, flectit durissima corda,
Exhilarat tristes, conciliatque sibi
Et lassus recreat studiorum pondere mentes;
Quid mirum a Musis, Musica nomen habet.

SONNET.
MEestersse van myn Hert, die door u soete stralen
En 'tvriendelijck ghelach, van uwen Roosen mont,
Myn Edel vry ghemoet, alleen vervvinnen kont
Oorsaeck van myn vreucht, oorsaeck van myn qualen.
Meestersse die myn Hert, kont wt myn Lichaem halen,
Dat nu van u Oogh, zoo vlammich is ghevvont,
End' dat ghy oock alleen, kont maken vveer ghesont.
Wanneer dat u ghesicht, medoghent mach op dalen,
Ontfanct dees droeve klacht, die u van ghantsch ghemoet
Wtberstende, door u arme Dienaer doet.
Die u voor desen tijt, syn Roosen Mont zal noemen
Indien hem maer de jonst gheschiet van desen dach,
Dat hy syn Roosen Mont, met recht, u heeten mach,
En sich van huyden aen, u arme Dienaer roemen.
Nieu Liedeken met zijn Voys.
Diese kan, ten gaet niet boys.
O Venus verweckt schoon // doch myns Liefs Hert /
Wijst een gherechte loon // dat ick verwinn' de smert /
Ick en kan niet langher leven / in dit torment /
Ic brand / ic brand / ic brand / door Liefden sonder ent.
Suchten is myn Spijs // Tranen is mynen Dranck /
Dat maect myn Hert zoo grijs // en myn Lichaem zoo kranck /
Cupido dat doet my alle dees smert /
Eylaes / eylaes / eylaes / schoon Lief vermach dit van u Hert.
Haer Wanghsken root // 'tGhesicht seer amoureus /
Brengt my al in den noot // doort wesen gratieus /
Ic en kan niet langher leven in dit verdriet /
Ic sterf / ic sterf / ic sterf / al door oprechte minne ziet.
Adieu Princes /
Adieu alder adieu /
Adieu myn Maistres /
Adieu myn Lief adieu /
Schrijft op myn Graf / hier leyt een Minnaer in /
O doot / o doot / o doot / helpt my wt dese min.
Translations
References, across this site, to this page:
No references to this emblem or page found.
Iconclass
A group of men is making music in a room full of muscical instruments; one man tries to pull the foremost of two ladies, peeping through the open door, into the room; on man replacing a broken string
Comments
commentary
Notes