Luxuriant animi iuvenum [2]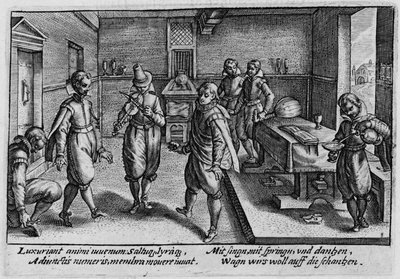 Wilt leeren Spelen, en Meesterlijck Danssen,
Zoo meucht ghy komen by groote Hanssen,
Ende oock, de Dochters sonder falen,
Indien ghy daer niet by en quaemt, souden u doen halen.

NOTA.
Dry dinghen zijn te vvinnen int Minnespel,
Den Hemel, 'tVaghevyer en de Hel,
Den Hemel is te kryghen met het IA vvoort
De Hel, met syn Paspoort,
'tVaghevyer is tusschen beyden te loopen
Voor NEEN te vreesen en IA te koopen.
Op de Wijse:

Van Pavane d'Espainge.
WEl op / wel op Goddinne // soet
Komt u Deenaer te baet /
Wilt wtblusschen der Minnen // gloet
Al eer het valt te laet /
O reyn Maechdelick saet /
'tIs in u macht certeyn /
Ghy syt voorwaer alleyn
De Blomme dien ick meyn.
Want door u Lieffelick wesen // klaer
Heeft Venus my doorwont /
Wilt ghy my niet ghenesen // maer
My vlieden t'aller stont /
Zoo blijf ick onghesont /
Myn Ionghe Hertgen teer
Vergaet hoe lancx hoe meer /
Want u Liefd' quelt my seer.
Hoe langh sult ghy doch vlieden // my
En laten in de smert /
Wanneer sult ghy doch bieden // vry
V ionst / op dat myn Hert
Te recht ghenesen wert /
En ick bevrijt van pijn /
Met u de Liefste mijn
Eens zal ghevoeghet zijn.
Dus o Princesse schat // van aert
Doet u Dienaer bystant /
Hem die u doet syn klacht // beswaert
Reyct mildelick u hant /
O Edele Diamant /
Volcht Hers kloeck ghemoet /
Die noyt haer Dienaer goet
Onthout haer vrientschap soet.
Translations
References, across this site, to this page:
No references to this emblem or page found.
Iconclass
A group of men at a dancing lesson; some have taken off their shoes and are wearing dancing shoes
Comments
commentary
Notes