Tinnit: inane est [29]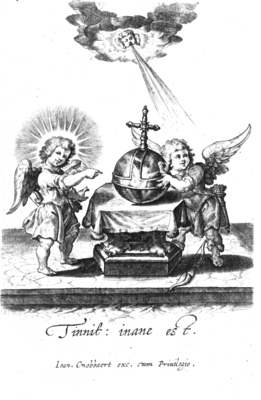 NVlla viret Famæ, me Iudice, Laurea luco,
Nulla tuis rutilant, Herme, metalla vadis,
Nullus Acidaliâ lepor enutritur in aulâ,
Copiaque in cornu, Copia, nulla tuo est.
Ne mirare; boni fons mendax aret, egetque
Fundere inexhaustas creditus Orbis opes.
Soluit ad hæc risu sua Cyprius ora Cachinno,
Et quasi maternum pulsat, amatque Penu,
Aut distenta salit velut agnus ad vbera, pleno
Aut stabulo Elæi pullus adhinnit equi.
Credula res Amor est; eluditur, & quia magno,
Magna sonat Mundus murmure, magna putat.
Magna sonat magno, sed inania munera, fastu.
Scilicet agnatum prodit inane sonus.
Nola cauum loquitur natiuis tinnula linguis;
Vocali speres massica nulla cado.
Et tamen vt fucis Dictæa sequentibus æra,
Murmure sic Mundi fit tibi fucus, Amor.

Pabula sperasti: quis inani pabula ab vmbrâ
Speret, & arenti fonte leuare sitim?
Fallere: Pellæos fortuna secuta triumphos
Seque, suæque dedit subdita Regna rotæ:
Nec tamen explerunt Pellæas æquora fauces,
Terraque sat tantæ non fuit vna fami,
Sic decus Isacidûm Salomon, sic Persidos aulæ
Ludibrium, fraudem fassus es Orbis, Aman.
Pleno in vtrumque sinu se effuderat Orbis; at ille
Sceptra, & opes vanas credidit, ille nihil.
Vt somno delusa fames dape gaudet inani,
Vt ficto cumulat Phantasos ære sinus:
Sic dominum quamuis tibi Sors transcripserit axem,
Plutus opes, fasces Gloria, Fama tubam;
Mox vbi lux cæcas animi dimouerit vmbras,
Inuenies, magnum præter inane, Nihil.
Qu'est cecy Cupidon? aussi tost que tu sonne,
Le Monde retintant d'vn petit ton fredonne:
Oyez cecy Mōdain: c'est que le Monde est vuide;
Car iamais ne tintoit chose du tout solide.
Translations
References, across this site, to this page:
No references to this emblem or page found.
Iconclass
Sacred love points at Cupid who listens to the sound of the orb he is knocking against
Comments
commentary
Notes