In cruce sola quies [6]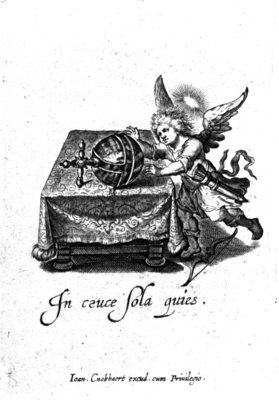 QVisquis amas nullâ vitiatum nube serenum;
Quisquis amas nullo gaudia læsa metu:
Huc ades; & tacitâ quæ venit ab icone, vocem
Accipe: lex Orbi nulla, nec vlla quies.
Aspicis, vt puer hic oculo, pede, mente, manuque
Instabili stabilem quærat in Orbe fidem?
Mille agit in gyros, in spiras mille, mæandros
Mille; nec ex vsu spes venit vlla moræ.
Scilicet innumeris ruit orbibus Orbis in orbem,
Et partes sequitur ipse, fugitque suas.
Miles es? vt crebrò vigiles tuba Martia lunas
Imperet; at famæ crebriùs æra vocant.
Nempe secunda suis nisi te fortuna maniplis
Augeat, vt suadent somnia; nulla quies.
Dux es? ni totis tibi belli gloria castris
Militet, vt spondent somnia; nulla quies.
Diues es, & magnas metuunt exilia messes
Horrea? si qua seges æmula; nulla quies.

Si qua recensenti dominos face iudice nummos
Adstrepuit folio virgula; nulla quies.
Prodet inaccessas nimirum frondea gazas
Lingua, nec arcano te sinet hoste frui.
Siqua per occlusas aut lux, aut vmbra fenestras
Furtiuo penetrat sepede; nulla quies.
Vmbra tegit fures; lux omnia prodit; vtrique
Inuia, vel casu hoc indice, nulla via est.
Cætera quid memorem? tecum fraus, liuor, egestas,
Tecum habitat tristi luridus ore dolor.
Vidit, & invidit, cumuloque superflua dempsit
Mulciber: at versis sors vbi nigra rotis;
Soli innixa Deo perstat, quæ fulta caducis
Spes erat illecebris; in cruce sola quies.
Bellica

Loyolam

quot fregit adorea curis?
At simul ac Gallo vulnus ab hoste tulit:
Sola tenet placidam curâ pax exule mentem;
Solus regnat Amor; in cruce sola quies.
Vis sit in Orbe quies? fac vt Orbis nesciat Orbem,
Inque crucem incumbat; in cruce sola quies.
Tu trauailles en vain, voulant que ceste boule
Sur le paué vny de la table ne roule:
Si tu veux Cupidon veoir se globe rassis;
Que le poids de la Croix ordōne son pourpris.
Translations
References, across this site, to this page:
No references to this emblem or page found.
Iconclass
Cupid reaches for the orb which is lying on its side, resting on its cross
Comments
commentary
Notes