[Titlepage]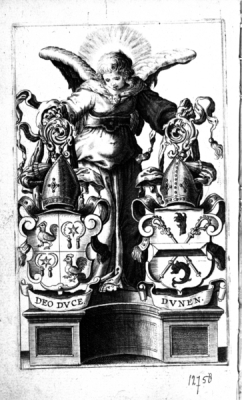 Translations
Literature
Anon., Lijst van bisschoppen van Gent
The engraved text could also refer to Carmina 1, 7, 27: 'Nil desperandum Teucro duce et auspice Teucro'. Teucer was the son of Telamon and Hesione, the most skillful warrior with bow and arrow amongst the Greek during the war at Troje. He founded the city Salamis at Cyprus after the Trojean war.Horatius, Odes
References, across this site, to this page:
No references to this emblem or page found.
Comments
The motto 'Deo Dvce' was used by Karel Maes (Carolus Masius, 1559-1612), bishop of Gent between 1610-1612. Does this quote refer to him, or is it merely a (free) translation of Horace's 'Nil Desperandum Deo Duce' (Do not dispair, God is leading the way)?
Notes