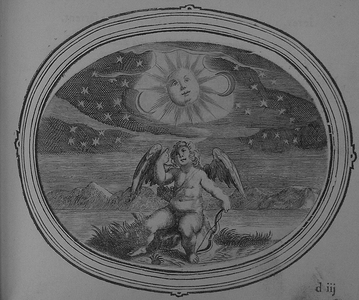 Obtenebrat stellas Phœbe : tu sola puellas:
Pulchræ essent aliæ, tu nisi pulchra fores.
Tvvee saecken boven al met glans den prijs behaelen,
Mijn liefs seer claer ghesicht, en Phœbi gulden straelen.
De sterren by de Son gheleken zijn gans blendt,
End in haer schoonicheyt en vind'ick oock geen endt.
De Son die comt daer heen haer gouden hooft vertooghen,
Mijn allerschoonste lief heeft peerlen in haer ooghen.
Een lief, een Son is daer. daer is oock vvel een Maen,
Maer die de Sonne derft, en isser niet vvel aen.
Qu'on ne me parle plus de beauté ny de grace,
Tant que de ma Phyllis ie voieray le bel oeil.
Sa beauté les beautés des plus belles surpasse,
Dautant qu'on voit ceder les astres au soleil.

References, across this site, to this page:
No references to this emblem or page found.