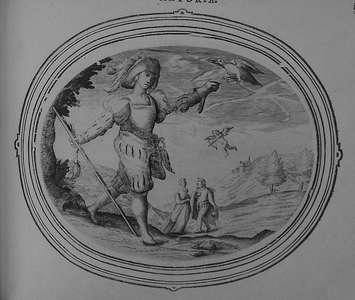 Ad dominum remeat dimissus in aëra Falco:
Sic mihi servitio blandior ipse meo.
Nu ben ick eenmael vry, ick ben eens uytghetoghen,
Ick gae daert my ghelieft, ten lesten noch ontvloghen
De handt die my soo langh ghevanghen heeft gheleyt,
End my dat schoone licht des Hemels heeft ontseyt.
Ick ben nu vry. tis waer. vvat vvil ick doch beginnen,
Hoe lieflick ende soet vvas my den bandt der minnen?
Ick gae van daer ik quam, ick vlieghe na de handt,
Om buyten pijn te zijn, moet ick vveer inden bandt.
Comme on voit, s' essoier par la vide carriere,
Puis reuenir au poing, le faucon escarté.
De mesme ie me rends en ma prison premiere,
Et pour servir amour, ie hay ma liberté.

References, across this site, to this page:
No references to this emblem or page found.