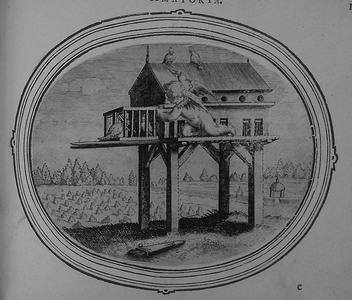 Laxa petens capitru volucris : sic vincula late
Nostra patent. arcte nec minus illa premunt.
Vier vensters quellen my gestadich inde minne:
De ooghen die ick hebb', en die van mijn vriendinne,
Daer herberght Venus kindt, dat is zijn eyghen erf,
Mijn lichten die ick draegh, die staen na mijn verderf:
Zy leyden my int strick. vvie vvil ick het gaen claghen?
Ik hebbe self ghehadt in mijn verderf behaghen.
Als ick daer buyten vvas, soo moest' ick daer in zijn,
Waer ick nu vveer daer uyt, soo vvaer ick uyt de pijn.
L'oyseau pour s' eslargir, court peu sage a sa perte:
S'enfermant en un lieu, dont il ne peult partir.
O lestroit eslargir ! ma prison est ouverte,
Presque de tous costès, & si n' en peux sortir.

References, across this site, to this page:
No references to this emblem or page found.