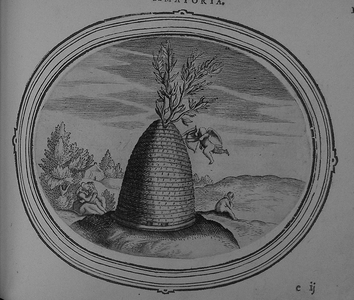 Vidisti alveolis si fortè absynthia nasci,
Sic specie dulci torquet amarus amor.
Het honich soude zijn soet boven alle saecken
Waert dat de liefde niet noch soeter placht te smaecken.
De galle soude zijn het bitterst' datmen vindt,
Waert datmen niet en vondt dat loose Venus kindt.
Ses ponden bitter gal met honich overstreken
Is datmen liefde noemt, daer van de menschen spreken.
Het soet comt uyt het suer, het suer comt uyt het soet
Dat droeve blijtschap tsaem, en' blyde droefheyt voet.
Lamour couure les coups d'une mortelle feinte,
Son philtre emmielé, se conuertit en fiel.
Ainsi voit le paysan souuvent croistre l'Absynthe,
Dans le ventre enciré, de ses ruches a miel.

References, across this site, to this page:
No references to this emblem or page found.