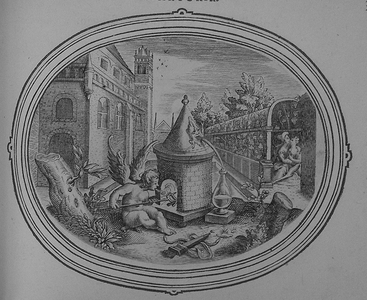 Ecquid adhuc dubitas? Testis sit lachryma flammæ,
Semper ut occluso stillat ab igne liquor.
Mijn vier brand meer end' meer, wat sal het eynde vvesen?
Het vvater spruyt gekomen is uyt tvier, end kan my niet ghenesen:
Mijn vier dat wort gestoockt, mijn vier dat brand en blaeckt
Soo lange dat mijn vier my een fonteyne maeckt.
Van tranen vloey' ick vvech : vvilt zy my niet verhooren
Ick moet doch eyndelijck int water gans versmooren.
O wonderbaren brant, van branden comt my dat .
Ick swemme daer ick gae , den brant die maeckt my nat.
Leau distille du flanc d'une creuse chapelle,
Espraincte par l'ardeur d'un brasier rugissant.
Ainsi naissent mes pleurs, de mon feu: t'en appelle
A tesmoing ce ruisseau, qui mes yeux va baignant.

References, across this site, to this page:
No references to this emblem or page found.