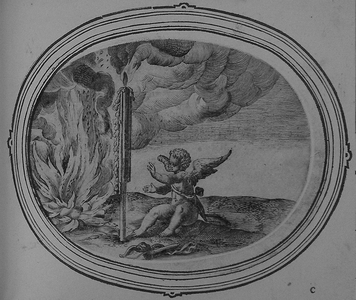 Proxima fax igni flagrat, atque remota liquescit:
Me procul ipse liquat, me prope torret amor.
Twee vieren krencken my zeer swaerelick mijn sinnen ,
Het een niet verr' van my, het ander is van binnen.
Het gheen dat binnen is, daer vvord' ick van verbrandt,
Het gheen dat buyten is, dat helpt my oock van kant .
Het gheen dat binnen is dat moet ick altijdt lyden,
Het gheen dat buyten is, dat comt my oock bestryden.
De helft is vvel by my, daer van ick gae te niet :
Dus lyd'ick in mijn hert een vriendelick verdriet.
Le flambeau, que l'obiect seul d'une mesme flamme
Faict ardre de plus pres & fondre reculé.
Helas cruel amour! seroitce pas mon ame?
Que l'absence a fondu', la presence bruslé.

References, across this site, to this page:
No references to this emblem or page found.