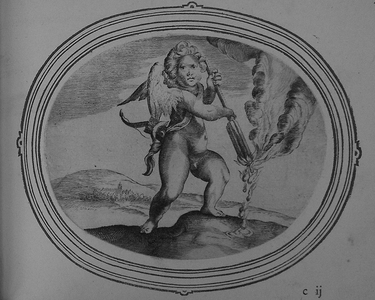 Vt qua nutritur pinguedine tæda liquescit,
Quâ vivo, & nutrior, quam pereo, hâc pereo.
Het ghene dat de torts ontsteeckt en doetse branden,
Dat selve blustse vveer soo haest men keert zijn handen.
Zoo gaet het met de min. O vvreeden brandt, O brandt,
VVat baet mijn vvijsheydt my, oft' treffelick verstandt ?
Ick loop her ende vve'er, ick gae nu zoo veel daghen,
En soecke dees en die, om mijnen noodt te claghen.
Ick moet vveer na het vier,, de ghene die't my doet
Als oorsaeck van mijn vier, mijn vier oock blussen moet.
Un cierge renversé, est semblable a ma flame,
La cire qui l'estaind, le nourrist elle pas?
Ce qui estaind mon feu, est celle qui l'enflame,
Ie tire de m'Amie, la vie & le trespas.

References, across this site, to this page:
No references to this emblem or page found.