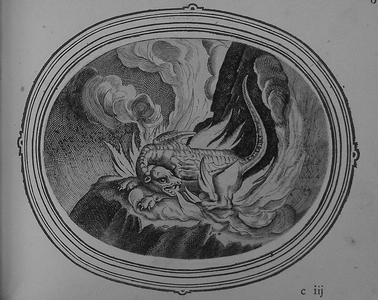 Te nutriunt Salamandra ignes, qui cætera perdunt.
Alterius nobis vivere morte datum est.
In't vier leef ick altijdt, tot' tvier ben ick gheboren,
Het is mijn lust mijn vreucht, het vier heb ick ghekoren,
Daer zonder can ick niet: soo ick niet hadd' het vier
Dat my het leven geeft, ick vvaer een schamel dier.
O vier blijft my maer by, en vvilt my niet begheven,
O oorsaeck van mijn vreucht, o vader van mijn leven,
O rechte medecyn. het gheen dat ander schaedt,
Is oorsaeck dat ick ben bevrijdt van alle quaedt.
Ce feu, qui me nourrit, met les autres en cendre:
Et le venin d'autruy iemploye a me guerir,
Qui niera desormais doncq, que la Salemandre,
Du feu tout–devorant ne se puisse nourrir.

References, across this site, to this page:
No references to this emblem or page found.