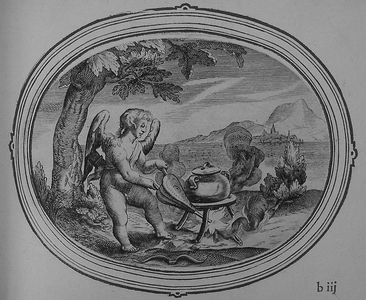 Exta velut clausis fervor consumit in ollis,
Et mea consumit viscera cæcus amor.
Beneden ben ick heet, van boven toeghesloten,
Van boven vvorter gansch gheen vvater ingegoten,
Van onder viers genoech. O doodt, O vvreede doodt,
Waert dat ick sterven cond' zoo vvaer ick uyt de noodt.
Nu sterf ick als ick leef, ick ben doodt al mijn leven,
Mijn hert verdroocht in't lijf, mijn jeught gaet my begeven,
Gheen vreught en isser meer. van buyten is den brandt,
Van binnen suyght hy uyt mijn sinnen end' verstandt.
Comm'on voit dans un pot une liqueur ravie,
Q'un fagot alumé eschauffe sans repos,
Ainsi en faict amour en nostre fantasie,
Et d'un feu violant nous ronge jusqu' a los.

References, across this site, to this page:
No references to this emblem or page found.