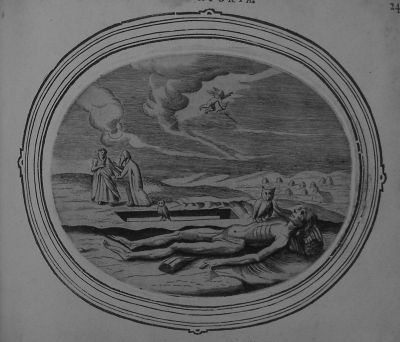 Noctua ut in tumilis, super utque cadevera bubo
Talis erit: Virgo nubere parce, seni.
Ick ben een levend'lijck: nu dinck ick eerst om minnen.
Als ander houden op, dan gae ick eerst beginnen.
De doot klopt voor de poort, Cupido vvoont int hert.
Ick smaecke voor mijn doot die liefelicke smert.
Ick ben mijn leven quijt, nu dinck ick om te leven:
Mijn leven dat begint alst my wilt gaen begheven.
Het comt of vroech oft laet: ick vreesde voor de doot,
En crijge voor mijn graff mijns alderliefsten schoot.
Telle que le hibou, sur une orde carcasse
Tu seras, si tu prends un vicillard a mari.
Tu veux auant la mort, t'enfermer en la chasse,
Et vine t'attacher a un corps mi-pourri.

References, across this site, to this page:
No references to this emblem or page found.