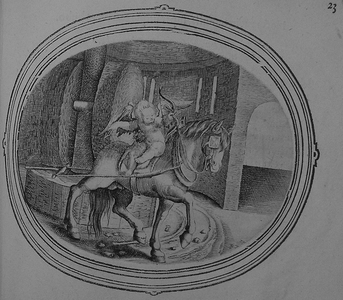 Quo fugis ah demens? sequitur te pæna, sequuntur
Iumentum ut scabræ pondera dura molæ.
Het gene dat ick vlie dat moet ick selve draegen,
Ick voere waer ick gae het geen dat my doet klaegen.
Ick wend' my hier end' daer, ick ben noch even blendt.
Ick gae, ick keer, ick kom, 'tbeginsel is het endt.
'Tsy dat ick blijde ben, 'tsy dat ick ben verbolgen,
Het gene dat ick vlie, dat moet ick selve volgen.
Daer ick gae is mijn liefd', ick moeter doch wel aen,
Ick most my selven eerst, woud' ick mijn brandt ontgaen.
Comme un cheval trainant une meule pesante
Je suis en mon tourment, malheureux empesché
Je suis ce qui me fuit, & tousiours se presante
A mes talons fuiantz le uengeur attaché

References, across this site, to this page:
No references to this emblem or page found.