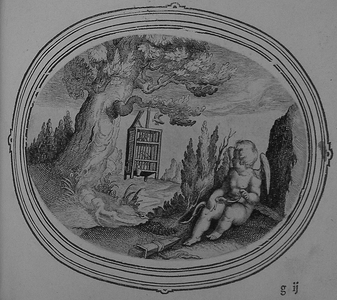 Servitij causam præstat sibi avara volucris:
Nec culpa hic, culpæ nec sua pæna deest.
Als ick hebb' vry gheweest, ick hadde groot verlanghen
Om vast te moghen zijn, ick moeste zijn ghevanghen:
Ick sach het minnen aen, het was een lieflick spel,
VVaer dat ick henen sach, het gingh al even wel:
Ick sach de vryers aen, ick sach haer soentiens gheven,
En soete praet uytslaen: ick docht, dat waer mijn leven,
My docht het gingh soo wel. maer als ick ben int perck,
Nu vvord' ick eerst ghewaer hoe dat het gaet te vverck.
Comme la greffe on voit, sur une branche entee.
Enrichir un verger dun Autumne de fruictz.
Ainsi le sainct lien d'un loyal hymenee,
Faict les deux n'estre qu'un, de deux en naistre dix.

References, across this site, to this page:
No references to this emblem or page found.