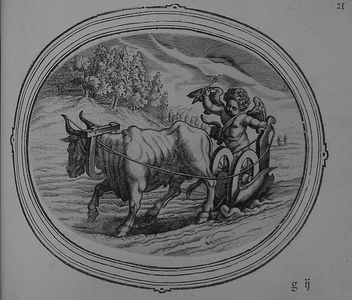 Frustrà tento oneri me i am subducere: frustra
Iam iuga detrect ant, quæ subiere boves.
Hier voortijdts als ick placht van minnen t'hooren spreken,
En van dat bitter soet end' van die loose treken,
My docht het vvas soo moy, men coster uyt end in,
Dat heeft my eerst gebroght het minnen in de sin.
Ick sach het jock vvel aen, maert'docht my licht te vvesen,
Ghevlochten end' ghebreyt van rooskens tsaem ghelesen
Wt Venus gouden tuyn, my docht ick vvas een man,
Maer als ick vveet vvat 'tis, en can ick daer niet van.
En vain contre le ioug, le torreau se muticie,
Qu'til a desia long temps sur sa teste portè.
De puis que soubs le ioug tu as courbè leschine,
S'en est faict cest trop, tard parler de lıberté.

References, across this site, to this page:
No references to this emblem or page found.