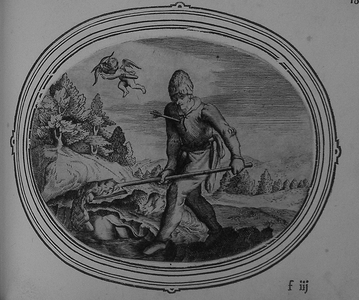 Submergo frustra stipatur foßa juvenco:
Sic fero sapiunt post sua mana Phryges.
Ben ick niet wel beraen? is dat niet wel ghevonden?
Als ick gheschoten ben, soo schudd' ick eerst de vvonden.
Verdroncken is mijn peert, ick vvercke dach en nacht,
Ick vulle nu den put, daer 't peert in licht versmacht.
Het is met my gedaen, ick mocht mijn moeyt vvel laeten,
Als ick den arbeyt doe en mach hy my niet baeten.
Het is niet vvel versint, alst huys al is verbrandt,
Het vvater vvt den put te nemen in de handt.
Le trop tard s'auiser long repentir apporte;
Quand mon boeuf est noié, ie comble le fossé.
Quand l'amour est entré, ie luy ferme la porte,
Et me pare du coup, quand ie me vrye blesse.

References, across this site, to this page:
No references to this emblem or page found.