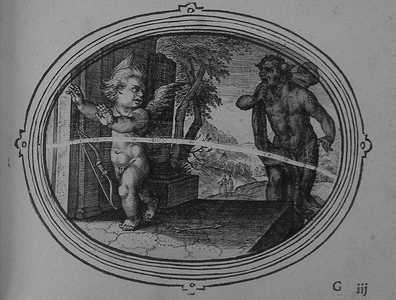 Si sapis, Invidæ nunquam pugnabis, Amator:
Inuidiæ, vincens omnia, cedit Amor.
Siet Venus sone vlucht, en kan hem niet bedwingen
Van bangicheyt en vrees, vervaert van dat gesicht
Die swarten bulleman, die hem hier kompt bespringen,
En helpt vast op de loop dat kleyne tanger vvicht.
De min is teer en svvack, zy is goet om verjaegen,
En vvordt gemeenelick verdreven door de Nijt.
Dat is den bulleman. ghy sullet u beclaegen,
Die met hem hebt te doen, ten sy dat ghy wijs sijt.
Ce dieu a qui les dieus doibuent mesme la vie
S'effraie au seul regard de ce noir barbouillé.
L'amour le plus parfait succombe sous l'enuie,
Craignant que par sa dent son renom soit souillé.

References, across this site, to this page:
No references to this emblem or page found.